Priscilla Alice Tavernia

Born: 9 Sep 1885, Chateaugay, Franklin, NY

Married 25 Nov 1903, St. Patricks Church, Chateaugay, NY, to Francis "Frank" J. DeLoria

Died: 10 Jul 1968, Chicopee, Hampden, MA

---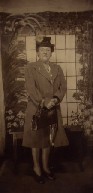 Priscilla Alice [Tavernia] DeLoria


AKA Alice Tiebernier
------------------
Birthdate noted in family bible - provided by Gabrielle Charest.
------------------
Social Security Death Record
Alice DELORIA
Birth Date: 9 Sep 1885
Death Date: Jul 1968
Social Security Number: 015-05-2724
State or Territory Where Number Was Issued: Massachusetts

Death Residence Localities
ZIP Code: 01013
Localities: Chicopee, Hampden, Massachusetts
Chicopee Center, Hampden, Massachusetts
----------------------------------------
Chateaugay Record, Friday, October 26, 1951

On the occasion of the visit of Mrs. Gertrude Bell and Mrs. Alice DeLoria of Springfield, Mass., a family reunion was held at the home of Mrs. Mary Wood on Lake Street, the first in several years. They were the family of the late Mr. and Mrs. Anthony Tvernier. Those present were: Mrs. Mary Wood, Chateaugay; John Tavernier, Malone; William Tavernier, Chasm Falls; Gertrude Bee, Alice DeLoria, Springfiels; Anna Armord, Malone.