Grace DeLoria

Born: 27 Mar 1911, Chicopee, MA

Married to Raymond O Poutre

Married to Eugene Laferriere

Died: 1 Jul 1999, Boca Raton, FL

---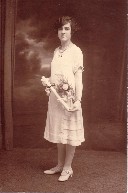 Grace DeLoria


Social Security Death Record
Name: Grace Laferriere
SSN: 021-24-6852
Last Residence: 33428 Boca Raton, Palm Beach, Florida, United States of America
Born: 27 Mar 1911
Died: 1 Jul 1999
State (Year) SSN issued: Massachusetts (Before 1951 )
----------------------------------
Union-News (Springfield, MA)
July 3, 1999
Section: Obits
Edition: Chicopee
Page: A06

Grace P. Laferriere

STAFF Union-News (Springfield, Mass.)
Grace (DeLoria) Poutre Laferriere, 88, of this city, and formerly of 341 Hampden St., Chicopee, Mass., died here on Thursday. Born in Chicopee, she was a longtime communicant of the city's Assumption Church and a member of its St. Anne Social Club and the United Society of the Confraternity of Passionist Fathers. Her first husband, Raymond Poutre, died in 1970 and her second, Eugene Laferriere, in 1983. She leaves a son, Gerald R. Poutre of Holyoke, Mass.; a daughter, Constance R. Tetreault of Boca Raton; three grandchildren; and a great-granddaughter. The funeral will be Monday morning at Corridan Funeral Home and the church, with burial in St. Rose de Lima Cemetery, all in Chicopee. Calling hours are Sunday afternoon and evening. Memorial contributions may be made to the church at 104 Springfield St., Chicopee, MA 01013.