Charles Louis Myette

Born: 21 May 1907, Plattsburgh, NY

Married 1928 to Gladys E Balthazard

Married to Evelyn Tatro

Died: 20 May 1990, West Springfield, MA

Occupation: Retired Army Officer; Industrial Safety Officer; Accountant

Reference: Author

---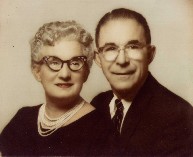 Charles and Gladys [Balthazard] Myette



Charles Louis "Buster" Myette was born 21 May 1907 in Plattsburg, NY. He died from brain cancer on 20 May 1990, one day short of his 83rd birthday. He was a career soldier, having started his career in the Massachusetts National Guard. He was commissioned a 2nd Lieutenant in 1941 after attending the Massachusetts Military Academy. He married Gladys Balthazard in 1928 - they had three children: my mother Loretta Alice Myette, born 28 Sep 1929 (now deceased); Don Myette, born in 1934 (still living in Florida); and Allen Myette born 1944 (still living in Rhode Island). Charles was stationed at Ft. Williams (Cape Elizabeth), South Portland, Maine during WWII, being considered too old to be placed into combat. After the war he was reassigned to Aamori, Japan to help manage the occupation. In 1948 he and his family returned to Chicopee, Massachusetts where they settled. He was medically retired at the grade of Major due to a degenerative back condition. He then worked as the Safety Officer for The Breck Company until his retirement. Charles and Glady moved to West Springfield, MA in 1960 where they both lived until their deaths. Lived at 32 Hermann St., West Springfield, MA from 1960 until his death.

Charles loved the game of golf, was an Army billiards champ, and played the Ukelele. He was nicknamed "Buster" due to his likeness to Buster Keaton.

Social Security Death Record
Charles MYETTE
Birth Date: 21 May 1907
Death Date: 20 May 1990
Social Security Number: 015-05-0802
State or Territory Where Number Was Issued: Massachusetts
------------------------
Details of US Army (National Guard) career:

Appointed Corporal, Co. F, 104th Infrantry Reg., 1 May 1934
Appointed Sergeant, Co. F, 104th Infrantry Reg., 13 Jun 1936
Appointed First Sergeant, Co. F, 104th Infrantry Reg., 8 Oct 1938
Graduated from Massachusetts Military Academy, Cambridge, MA, June 1938 (5th in Class)
Commissioned 2nd Lieutenant Infantry, Inactive National Guard, March 1938
Inducted into the US Army, 16 Jan 1941, Co. F, 104th Infantry Regiment
Commisioned in the Active Army, 7 Apr 1941
Recalled to active duty 13 May 1942 assigned to Harbor Defenses of Portland, Ft. Williams, Maine
- Asst Transportation Officer
- Motor Transportation/Maintenance Officer
- Asst Provost Marshall
Promoted to Captain, 19 Apr 1945
Transferred to Aomori Military Gov't Tem HQ, Aomori Japan 23 Sep 1946
- Procurement Officer
- Adjutant
- Detachment Cdr
---------------------------------------------------

1930 Federal Census Info:

George and Gladys Myette living Gladys' parents at 51 Pendleton Ave, Chicopee, MA - two houses away from Charles' parents (see George Arthur Myette entry)

Family Members:
Name Pos Age Born Father Mother Occupation
------------------------------------------------------------------------------------
Balthazar Alfred Head 52 Can. Can. Can. Highway Laborer
Bathazar Alfred, Jr Son 21 MA
Balthazar Paul Son 11 MA
Myette Charles SonInLaw 23 NY
Myette Gladys Dau 22 MA
---------------------------------------
The West Springfield Record, Thursday, May 24, 1990 - Obituaries:
Charles Myette, 82, was leader of Yankee Division veterans, accountant

Charles L. Myette, 82, of 132 Herman Street, a retired self-employed accountant, died Sunday in Mercy Hospital, Springfield. From 1948 to 1963 he was a safety officer at John H. Breck company. Born in Plattsburgh, New York, he lived in Chicopee and attended Chicopee High School. He was graduated from th Goff Business Schoool and lived in Springfield before moving to West Springfield in 1959. He was an Army veteran of World War II and attained the rank of major. He served during the occupation of Aomori, Japan. He was a past commander of the 104th Infantry Division Veterans Association and a member of the Holyoke Chapter of the 26th Infantry (Yankee) Division. He was a communicant of St. Thomas the Apostle Church, and a member of Veterans of Foreign Wars Post 430 and American Legion Post 275, both in Chicopee. He was also a life member of the National Retired Officers Club, and a member of the American Association of Retired Persons. His first wife, the former Gladys Balthazard, died in 1972. He leaves his wife, the former Evelyn G. Tatro; two sons, Don of Tampa, Forida, and Alan of Providence, Rhode Island; a daughter, Loretta A. DeLoria of Chicopee; a stepson, William D. Clark of Springfield; a sister, Marguerite Clark of Chicopee; six grandchildren and three great-grandchildren. The funeral was Wednesday morning at Toomey-O'Brien Funeral Home and the church, with burial in Calvary Cemetery, Chicopee. Memorial contributions may be made to the Pioneer Valley Visiting Nurse Association, 570 Cottage Street, Springfield, MA 01104.