Loretta Alice Myette

Born: 28 Sep 1930, Chicopee, MA, USA

Married 27 Jan 1951, Assumption Church, Chicopee, MA, to Edward Donald DeLoria

Died: 15 Oct 1999, Springfield, MA, USA

Occupation: Housewife; Waitress

Reference: Author

---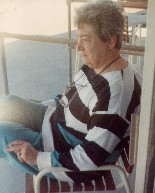 Loretta Alice Myette on the beach in Maine


Social Security Death Record
Loretta DELORIA
Birth Date: 28 Sep 1930
Death Date: 15 Oct 1999
Social Security Number: 019-24-2702
State or Territory Where Number Was Issued: Massachusetts

Death Residence Localities
ZIP Code: 01020
Localities: Chicopee, Hampden, Massachusetts
-------------------------------------------
Loretta died from complications associated with liver disease. She died only 8 months before her husband, Edward DeLoria, after 49 years of marriage. She lived at 36 Hillside Ave, Chicopee, MA from 1959 until just a few days before her death.

Loretta, along with her husband, Edward D. DeLoria, raised 3 children. She lived the majority of her life in Chicopee, MA, spending three years at Fort Williams, Cape Elizabeth, ME during World War II, followed by 2 years in Japan where her father, CPT Charles Myette served in the Army.