Edward Donald DeLoria

Born: 6 Jul 1929, Chicopee, MA, USA

Married 27 Jan 1951, Assumption Church, Chicopee, MA, to Loretta Alice Myette

Died: 6 Jun 2000, Agawam, MA, USA

Occupation: Salesman

Reference: Author

---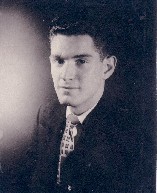 Edward "Red" Donald DeLoria


Note in the 19030 Federal Census as living with his parents, Edward and Verna, at 44 Orchard St., Chicopee, MA. He was 9 months ole at the time. His uncle and aunt, Theodore Laferrier and Mary Victoline [DeLoria] Laferrier,in the same building with their daughter Claire (4 months old), Edward's cousin and lifelong friend.
-----------------------------------------
Social Security Death Record
Edward DELORIA
Birth Date: 6 Jul 1929
Death Date: 6 Jun 2000
Social Security Number: 024-20-7818
State or Territory Where Number Was Issued: Massachusetts

Death Residence Localities
ZIP Code: 01020
Localities: Chicopee, Hampden, Massachusetts
-------------------------------
Edward died of liver cancer one month shy of his 71st birthday. He lived at 36 Hillside Ave., Chicopee, MA from 1959 until 2 days before his death, choosing home hospice care over a nursing home so he could spend his last few months at home. He died only 8 months after his wife, the former Loretta Myette, to whom he was married for 49 years.

Edward worked as a salesman and bartender, who, along with his wife, the former Loretta Myette, raised 3 children, living his entire life in Chicopee, MA. A graduate of Chicopee HIgh School, Edward attended Western New England College for a number of years, never attaining a degree. He was the oldest of 10 siblings, being survived by all but Anthony (Kenneth) DeLoria.