Charles Richard Bush

Born: 1848 to 1855, NY

Married 1872, Scammon, KS, to Mahala Elizabeth McWilliams

Died: 1 Jun 1885 to 1890, Leadville, CO

---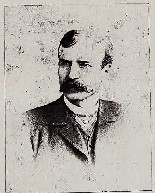 Charles Richard Bush


From "Mackie History", Virginia French Mackie, July 1965:

"Charles Bush was a mining engineer, of German Ancestry. He and "Bushy" and their two little daughters lived in Leadville, Colorado, where he was an engineer for one of the silver mines.

"One evening, when he was coming home from work, a drunk staggered, shooting, from a tavern brawl on the opposite side of the street. One of the bullets ricichetted [ibid] and struck Charles Bush in the head, killing him instantly - dead at the age of thirty."