Rev. Thomas Morse

Born: Bef 14 Sep 1546, Stoke-By-Nayland,Suffolk,England

Married 26 May 1573, Boxted, Suffolk, England, to Margaret King

Married 15 Feb 1586, Dedham, Essex, England, to Margery Symson

Married 10 Nov 1596, Bexted, Essex, England, to Margery Boggas

Died: 18 Aug 1597, Foxearth, Essex, England

---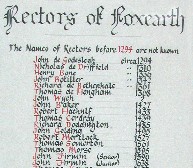 Foxearth Church - Plaque showing the Rectors of the Church


Church - Foxearth, Essex, England

Thomas Morse served as minister at Boxted, Essex 1573-1578; Hinderclay, Suffolk 1583; and Foxearth, Essex 1595-1596.

Thomas died while serving as Rector here at Foxearth. The ground first consecrated in the 1200's this is the site of Thomas Morse burial.

For accompanying pictures see web site at:

http://freepages.genealogy.rootsweb.com/~danielsofmassachusettsbaycolony/Foxearth%20.html
-----------------------------------------------
From: http://www.geocities.com/Heartland/Hills/1094/morse.htm

Stoke-by-Nayland the home of the probable father and grandfather of rev. thomas Morse is in southern Suffolk, and only two miles north from Nayland, which is on the River Stour, that seperates Suffolk from Essex. Boxted, where Rev. Thomas Morse was vicar from 1573 to 1578 and where he apparently continued to live for some five years more, his fifth child having been baptized there in 1583, was only a mile or two southeast from Nayland, on the Essex side of the Stour, and Dedham, also in Essex, was a few miles farther down the river. In 1583 Rev. Thomas Morse became rector of Hinderclay, a parish in northern Suffolk, about thirteen miles northeast from Bury St. Edmunds and very near Redgrave, on the Norfolk border. A short distance easterly from Redgrave was Palgrave, where Joseph Morse, a son of Rev. Thomas Morse, settled. Samuel Morse, therefore, must have been taken by his father to Hinderclay when he was only seven years old, and probably remained there at least until he was seventeen or eighteen years of age, for his father did not leave Hinderclay and become rector of Foxearth in Essex until about 1594. Presumably Samuel became aquainted with the neighboring parish of redgrave while his father was rector of Hinderclay, and in 1602 married a Redgrave young woman, his brother Joseph marrying a sister of Samuel's wife some three years later. Certainly this Samuel Morse, the son of Rev. Thomas Morse is much more likely to be the man who married Elizabeth Jasper of Redgrave then either of the other two Samuels who have been considered, the first belonging to Stratford St. Mary, on the extreme southern border of Suffolk, and the second having been baptized at Dedham in Essex , in 1587 and being therefore too young to have married in 1602 Elizabeth (Jasper) Morse, to be sure, would have been 55 years of age when the Increase sailed, instead of 48 as recorded in the shipping list; but this discrepancy may be disregarded, as already explained, in the face of the other evidence.It may be added that Samuel Morse's son Joseph, whose age is given in the shipping list of the Increase as 20 years, was baptized at Redgrave 2 May 1613 and was therefore about 22 years old in the spring of 1635, an age that corresponds better with the age in the shipping list than do the ages of his father and mother."