Thomas Mackie

Born: 9 Nov 1863, David's Hill, Dalry, Ayrshire, Scotland

Married to Lettie V Hess

Died: 18 Apr 1940, Pittsburg, Kansas

---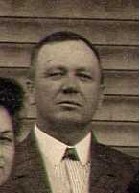 Thomas Mackie circa. 1910


Reared two nephews, Carl and Paul Hess.
Thomas and Lettie had a baby who died at birth.
------------------------------
Obituary (newspaper unknown)

Thomas Mackie

The death of Thomas Mackie causes another break in one of the noted families in the Kansas coal industry. Mr. Mackie had been associated with the coal industry for 55 years. Except for a few years his associations were in the Kansas field. The Mackie name has been identified with Kansas coal for many decades. Mr. Mackie contributed a full share to the acheivements of the family in the industry. His sturdiness of character was matched by his physical sturdiness. The end came to him Thursday at 76, but until his fatal illness he had continued actively at work with the Mackie interests.