John William Mackie

Born: 9 Dec 1876, Diamond, Illinois

Married to Clara Evelyn Bush

Died: 13 Jan 1961, Pittsburg, Kansas

---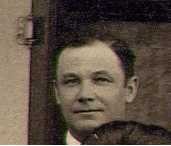 John William Mackie circa. 1910


Newspaper clipping (photocopy) from Martha Jane [Daniels] Hurst
Newpaper and date unknown.

Mackie is a name closely linked to the Kansas coal industry for three-quarters of a century. George K. Mackie, at the age of 30, with his brother, John W. Mackie, then 14, moved with their family to the Pittsburg area in 1890. Working first for the old Central Coal and Coke Co. near Scammonville (now Scammon) in 1903, in conjunction with Ira Clemens, the brothers founded the Mackie Clemens Coal Co.. By 1910 they had established the George K. Mackie Fuel Co., the first of several associated firms.

George retired from the coal business in the mid-teens, to become director of the Watson National Bank of Lawrence. (Born in Graywood, Ill. in 1860 [this is obviously a mistake], George died at Lawrence on June 15, 1929). John remained in Southeast Kansas, however, becoming president of the Clemens Coal Co., and eventually chairman of the board of the Mackie Clemens Fuel Co.. Born on Dec. 9, 1876, in Diamond, Ill., John retired on his 71st birthday after having worked for 53 years in the coal industry, dying on Jan 13., 1961, at the age of 84. His obituary recalled him as a quiet, but forceful business executive, who won and held the esteem of his colleagues in the industry. "Mackie is more than a name in the Kansas coal industry", a eulogy concluded. "It is a tradition." That tradition continues through this centennial year.