Louis Wood

Born: Abt 1863, Skerry, NY

Married 14 Nov 1894, St. Patrick's Church, Chateaugay, NY, to Mary Clara Tavernia

Died: 26 Nov 1938, Chateaugay, Franklin Co., NY

---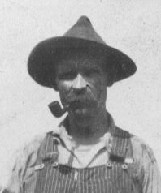 Louis Wood circa 1910 (courtesy of Peggy Lamotte)


From: ZackDS@aol.com
Fri, 30 May 1997 17:56:49 -0400 (EDT)

Celina, born in 1909. is the only child still living of the parents listed below. Her father Louis/Lewis Wood(s), was an orphan. Just prior to his death, he traveled with his wife & daughter Clara to the town of his birth. Celina remembers that he found his parents gravesite, and the farm he was born on. Unfortunately, the names of his parents, and all other info, died with those three people. None of the information was passed along to anyone who didn't make the trip. I believe the trip was a day or two drive (in 1938) from Chateaugay, NY.

I would love to help her find her father's parents (and since she's 88, find them soon.) Does any of the story below fit in to your Wood family?

Husband: Louis Wood #89 died at age: 74
Born: ABT ??-__-1865? in: Skerry? (Probably Dickinson/East Dickinson?)

Died: 26-Nov-1938 in: Chateaugay, Franklin Co, NY
Buried: in: St Patrick's Church Cemetary, Chateaugay, NY

Father: UNKNOWN
Mother: UNKNOWN
Family tradition holds Louis Wood was orphaned (at 5 - 7 yrs old) when his parent's
buggy was struck by a train. He always believed he had a brother but did not remember the name. Orphaned between 1867 - 1874.

First census he is found in is NYS 1875 as Lewis Wood (age 12) hired farmhand for John Smith in Chateaugay. He is also listed in US 1880 census as Lewis Wood (age 13) working for the same John Smith of Chateaugay, NY.

NYS death certificate District #1657 registered #16, lists Dickinson, NY as his birthplace, & his age at death as "about 74", information on death cert. provided by son William Wood. Obit in newspaper says he was born in Skerry, but lived most of his 75 years in Chateaugay. My checking an old map shows Skerry to probably be an area of Dickinson.

Wife: Mary Clara Tavernier #51 died at age: 90
Married: 14-Nov-1894 in: St Patrick's Church, Chateaugay, NY her age: 21
Born: 23-Jan-1873 in: Chateaugay, Franklin Co, NY
Died: 19-Nov-1963 in: Alice Hyde Hospital, Malone, NY
Father: Antoine Tavernier #49
Mother: Mary Dame #50
--------------------------------------
The Franklin Gazette, Nov. 23, 1894

MARRIED
WOOD-TAVERNIER - In Chateaugay, N.Y., on Wednesday, Nov.14, 1894, by Rev. P.J.Devlin. Lous wood and Miss Mary Tavernier both of Chateaygay, N.Y.
---------------------------------------


The Chateaugay Record, Friday, December 2, 1938

Louis Wood

Louis Wood passed away at his home on Lake Street at about 4:30 o'clock on Sunday morning after an illness of about four weeks duration.

The deceased was born in Skerry, but practically his entire lifetime has been spent in Chateaugay. For a number of years he was a valued employee at the High Falls Pulp & Paper Company Mill.

Mr. Wood was a kindly and courteous man, sympathetic and strictly honest with all of his dealings with his fellowmen and his passing is deeply mourned.

On November 14, 1894, he was united in marriage to Miss Mary Tavernier, daughter of Anthony Tavernier and besides his widow the following children survive, four daughters and four sons, Mrs. L.J. Tavernier, Mrs. Clara Charland, of Malone, Mrs. Richard Ploof and Mrs. Lawrence Ezro, of Chateaugay, John, Anthony, Joseph, and William Wood, of this village.

The funeral services were held at St. Patrick's Church on Tuesday morning, Rev. J.R. McClure officiating, and interment was made in St. Patrick's cemetery. A large concourse of relatives and friends were in attendance at the services.