Gislebert "Crispin" de Clare Comte de Brionne

Born: Abt 979, Normandy, France

Married to Gunnora d'Annou (Anjou)

Died: Abt 1023, France

---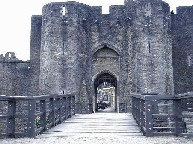 The magnificent castle of Gilbert de Clare at Caerphilly.


From: http://www.castlewales.com/clares.html

Many modern family names can be spotted drifting in and out of the spotlight of British history across time if one looks closely enough. One such family name, through a combination of intrigue and diplomacy, rose to become the wealthiest family in thirteenth century England, and later members of the dynasty were to influence the country's future by marrying into the Plantagenet royal family.

The family in question is that of the de Clares, now remembered through the surname Clare and it's derivatives. Originally a Norman family, they took their name from Clare in Suffolk where their first castle, and the seat of their barony, was situated. By the thirteenth century, the family held vast estates in Wales, Ireland, and twenty two English counties - so there was little chance of the surname becoming isolated to just one area.

The first recorded member of the de Clare dynasty was Godfrey, Count of Eu. Godfrey was an illegitimate son of Richard of Normandy, and his son Gilbert was assassinated in 1040 - although as you will see, Gilbert was to become a confusingly common name for sons of the de Clare dynasty. It has been suggested that the de Clares were distant relatives of William I of England, as William himself was the illegitimate son of another Duke of Normandy.

Distantly related to William or not, Gilbert's sons accompanied William in his invasion of England in the late eleventh century. They were suitably rewarded for their support - Baldwin de Clare became Sheriff of Devonshire, and his brother Richard de Clare was given control of 170 estates in Suffolk (95 of which were attached to Clare Castle. Although Baldwin did not marry, Richard's marriage to Rohais Giffard produced three sons (Richard, Roger and Gilbert) and two daughters (Rohais and one unknown). Richard and Rohais de Clare also set about building a priory at St Neots (now in Cambridgeshire), which was finished around 1100; Richard never saw the dedication service however, as he died around 1090.

Richard and Rohais' children managed to involve themselves in a great deal of the intrigue referred to in the introduction - Roger and Gilbert were present at the murder of William II in 1100, and the unknown daughter was married to Walter Tyrol, who was William's murderer. Gilbert had also been involved in rebellion in 1088 and 1095, so it would seem that the de Clare family were keen to establish a leading role in British politics from an early stage. The third of Richard's sons, named Richard after his father, seemed more content with his lot, as he is not believed to have been involved in any such high level intrigue as his siblings; saying this however, his son Gilbert kept up family tradition through being one of the twenty five barons involved in the administration of the Magna Carta in 1215. The younger Richard also married Amicia, daughter of the Earl of Gloucester, inheriting the title and passing it down through an unknown son after his death in 1217.