Richard I "Sans Peur" Duke of Normandy (III)

Born: 28 Aug 933, Fecamp, Normandy, France

Partner with Emma de Burgundy

Married Abt 957, Fecamp, Normady, France, to Gunnor de Crepon Duchess of Normandy

Married to Papia Concubine of Richard I

Died: 20 Nov 966, the Monastery at Fecamp, Normandy, France

---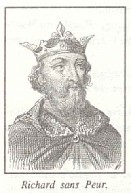 Richard I, Duke of Normandy


Richard I, Sanspeur (without fear), 3rd Duke of Normandy

Children (2):
Richard II, 4th Duke of Normandy; b abt 957, Normandy, France
Robert, Count of Evreux; b abt 965, d 1035, Nicaea, Turkey
Malger, Count of Corbeil; b abt 966, d abt 1030 (his son,
William Werlenc) (van Houts:54-5, 126)
Emma, Queen of England; b abt 975, Normandy, France, d. 14 Mar 1051/52, Winchester Cathedral, London, England
Godfrey, 1st Count of Eu and Brionne (illegitimate) (van Houts:93); f/o Gilbert, 3rd Count of Eu, who fathered Richard of Clare or Tonbridge (van Houts:228)
William I, 2nd Count of Eu; b abt 955 Normandy, France (illegitimate) (van Houts:8)
Hedwige m. Geoffrey Count of Bretagne
Children: Alan, count of Bretagne; Emme m. Ivo of Cotentin (Lawson)
-------------------------------------------------
"Louis IV of France took the boy-duke into his protective custody, apparently intent upon reuniting Normandy to the crown's domains; but in 945 Louis was captured by the Normans, and Richard was returned to his people. Richard withstood further Carolingian attempts to subdue his duchy and, in 987, was instrumental in securing the French crown for his brother-in-law, the Robertian Hugh Capet."

Although Richard I's son Richard II was born out of wedlock, after Richard's wife Emma died, he then married Gunnor, the mother of Richard II.