Sir John Wright, Rev.

Born: Bef 27 Oct 1450, Kelvendon Hatch, Essex, England

Died: Abt 1509

---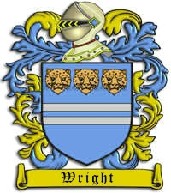 Wrigth Coat of Arms


The Wrights of Kelvedon Hatch are fairly well know in gene- alogy circles as the Kelvedon Wrights. Records indicate the early family lived at Dagen- hams as Sir John Wright(1) was Christened there on 27 Oct 1450, as was his son John Wright(2) who was Christened on 12 Jul 1488, and died there on 5 Oct 1551. Olive Hubbard, the wife of John Wright(2) was also born at Dagenhams, and Christened there on 22 Feb 1487. The same records also indicate their marriage on 17 Mar 1509 at Dagenhams.

However, before Kelvedon Manor was purchased, John Wright, although had been recorded as in Kelvedon Hatch, was considered as a yeoman of South Weald. From this we can gather that the family had moved into the South Weald area from Dagenhams, sometime after his marriage in 1509. As of this writing, we do know that John Wright and his wife Olive Hubbard were in the Kelvedon Hatch area by 1522. Their son, John [Myddle] Wright was born 19 Jun 1522, Kelvedon Hatch, as was John [young] Wright, 4 May 1524.

The Kelvedon Manor was purchased in 1538, yet "The first Book of the Registers of St Peter" has "Johanis Wryght, son of Johanis of Wealdside, md. Alicia Wood, widow, 13 Sep 1541". This indicates that John and Olive Wright may have still lived at Wealside.

The "Eldest" John Wright remained in Kelvedon Hatch, while "Myddle" John, although born in Kelvedon Hatch, lived near Wealdside in South Weald and is considered by most as John Wright of "Wright's Bridge" [when looking at the map, it looks as though it is in Havering]. "Young" John was considered as John Wright "of South Weld".