Edward the Elder King of England

Born: Abt 870

Married to Ecqwyn of Wessex

Died: Abt 924, Forndon, Northamptonshire, England

---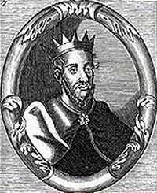 Eward I, "The Elder", King of England


Edward the Elder, "The Unconquered", King of England
------------------------------------------------------------
"The Unconquerored King," was born about 870 and died about 924. He reigned 24 years from 900 to 924. He was not, like his father, a legislator or a scholar, although it is said that he founded the University of Cambridge, but he was great warrior. He gradually extended his sway over the whole island, in which project he was assisted by his sister the "Lady of Mercia" who headed her own troops and gained victories over both the Danes and Britons. Tradition assigns to Edward an even wider rule shortly before his death. In the middle of the ninth century the Picts and the Scots had been amalgamated under Kenneth MacAlpin, the King of the Scots, just as Mercia and Wessex were being welded together by the attacks of the Danes. It is said that in 925 the King of the Scots, together with other northern rulers, chose Edward "to father and lord." Probably this statement only covers some act of alliance formed by the English King with King of Scots and other lesser rulers. Nothing was more natural than that of the Scottish King, Constantine, should wish to obtain the support of Edward against his enemies; and it is natural that if Edward agreed to support him he would require some acknowledgment of the superiority of the English King. After a prosperous reign, King Edward died in Forndon, Northamptonshire in 925. He married Lady Edgiva (Edgina), daughter of Earl Sigelline (Sigilline), Earl of Meapham. He succeeded his father about 901, and raised the supremacy of Wessex into something little short of an imperial authority, extending his sway over Mercia, East Anglia, and Northumbria.