Aaron Fitz Rogers

Born: Abt 1280, Italy

Died: Abt 1325, London,Middlesex,England

---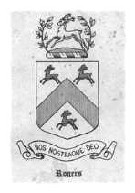 The Rogers Crest


per History of MF Planters by L.C. Hills
The Rogers Family:
SIR TANCRED DE HAUTVILLE, b Abt 970. d aft 1058, a nobleman of Hautville near Cautauces, Normandy. m 1st abt 992 Moriella; m 2nd abt 1013 Fredistand. There were a number of sons, among them, Robert, Roger and William.
ROBERT "GUISCARD", b 1015, became a great General, commanding Norman troops in Italy, and was created Duke of Apulia 1059; King of Naples and had other honors.
He d 1085.
His borther Rogers became Grand Count Roger I 1089-1102 of Sicily.
He was b 1030, d 1101/2.
Duke Robert and his brother Grand Count Roger were primarily responsible for the Norman conquest of Sicily, and the Fitz Roger name in South West England is alleged to have sprung from descendants of these brothers.
Conditions in Sicily of a religious nature becoming delicate, an Aaron John Fitz Rogers, a merchant of Rome, was forced to flee to London where he engaged in business. The Rogers Family have the right to bear the coat of arms accredited to GRAND COUNT ROGER I of Sicily. Aaron Rogers was b Italy abt 1260/70.