Ramulph "de Gernon" de Machines

Born: Abt 1099, Gernon Castle, Normandy, France

Married to Maud ftzRobert de Caen

Died: 16 Dec 1153, England

---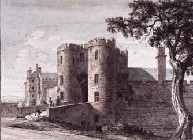 The entrance to Chester Castle [18th century painting]


Buried at St. Werburgh, Chester, Cheshire, England
-------------------------------------------------
From: http://freespace.virgin.net/c.crane/Kevelioc/Kevelioc.htm

Ranulph de Meschines (surnamed de Gernons, from being born in Gernon Castle, in Normandy), Viscount Bayeaux, was a leading military character. In 1139, King Stephen made Henry the son of King David of Scotland Earl of Northumberland and gave him Carlisle and Cumberland. This so incensed Ranulph that he took up arms against King Stephen along with the Empress Maud, and the young Prince Henry

In alliance with his father-in-law Robert, Earl of Gloucester, the king was defeated made prisoner at the battle of Lincoln on Candlemas day 1141. They committed him to the castle of Bristol where he remained until 1143.

Ranulph subsequently however changed sides and fought with the King. This rebounded on him and finally, distrusted by all, he died under excommunication on 16 Dec 1153. It is suspected that he was poisoned by William Peverell, Lord of Nottingham, who, in turn is said to have turned monk in order to avoid punishment. His body was interred at St Werburgh Abbey in Chester (now Chester Cathedral)

In 1141, the earl married Maude, daughter of Robert, surnamed the Consul, Earl of Gloucester, natural son of King Henry I. They had three children : Hugh , Richard and Beatrix. Maude survived him and died on 29 July 1189

St. Mary's Nunnery :
The earliest charter connected with the nunnery we know of dates from about the year 1150, though it is known the nuns were in Chester before that date, possibly at another site. It says:

"Randulph, Earl of Chester, etc., grants to God and St. Mary and the nuns of Chester, those crofts which Hugh, son of Oliver, held of the demesne of the grantor, with the goodwill of the said Hugh, who has quit-claimed them before grantor and his Countess, etc., towards the building there of a church in honour of God and Saint Mary, for the remission of grantor's sins, etc., and for the founding of their building. Witnesses: John and Roger, chaplains, Matilda the Countess, Hugh the Earl's son, Fulk de Brichsard, Ralph Mansell, Richard the butler; at Chester."