Cornelis (Cornelissen) Viele

Born: Abt 1542

Married Abt 1670, Schenectady, Schenectady County, New York , to Suster Bouts (Boots)

---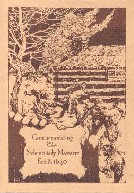 The Schenectady Massacre


Early settled in Schenectady, where, in company with ClaasFrederickse Van Petten, be bought Marten Cornelise Van Isselsteyn'sbouwery in 1668; 1670 he sold his moiety consisting of 12 morgens,130 rods, with house, barn, two ricks and garden to Jurriaen TeuniseTappen of Albany, taking in exchange a house and lot in Albany on thewest corner of State and Pearl Streets; three years later be soldthis house and lot to Richard Pretty, sheriff; 1671 he was a licensedtapster in Schenectady; 1677 received a grant of 34 acres of land bypatent on the Steene kill, about four miles west of Schenectady, andon the south side of the Mohawk River
-------------------------------------------------------------------------------
On the 24 Feb., 1723, Johannes Dyckman and Jannetje Dyckman, married people, became church members at Linlithgo. Johannes Dyckman m. Jannetje. dau. of Cornelis Cornelisen Viele of Schenectady, NY, and from her received land at the All Platts on which they lived but two years when the French and Indian massacre of 1690 happened. Cornelis Cornelisen Viele suffered great loss, for among the killed were his dau. Mary, the wife of Dowe Aukes, with her two children, and Mary Aloff, the wife of his son Cornelis; Arnout Viele, his grandson, was carried off alive to be held a captive for three years, but his daughter Jannetje, with her husband and child escaped to Albany, later going to Dutchess County, but in 1715 removing to the Manor of Livingston. Johannes and Jannetje Dyckman had a son Johannes,, bap. 11 May, 1690, at Albany, who m. Engel, and left descendants who settled at or near Linlithgo. NY, and a dau. named after her father's mother, undoubtedly born on the All Platts prior to the massacre and destined to become the wife of Laurens Knickerbocker.

(Above from "The Knickerbocker Family" by William B. Van Alstyne)
---------------------------------------------------------

This is a list of people who were killed and captured by the French and Canadian Indians who invaded Schenectady, NY on the 9th of February 1689/90 that was posted on the Dutch Colonies Mail List.

YE PEOPLE KILD AND DESTROYED
By ye French of Canida and there Indians at Skinnechtady twenty
miles to ye westward of Albany between Saturday and Sunday ye
9th day of February 1689/90


Aertse, Jorls shott and burnt 1
Alexander, Robt souldr of Capt. Bulls shott 1
Alolff, Mary wife of Cornelis Viele Junr Shott 1
Andries, Daniel & George 2 souldiers of Capt Bull 2
Bratt, Ands Arentse shott & Burnt & also his childn 2
Christoffelse, David & his wife with 4 Children all burnt in there house 6
Church, Serjt of Capt Bull's Compy 1
de Goyer, Jan Roeloffse burnt in ye house 1
Gerritse, Sander ye sonne of Hysbert Gerritse kild & burnt 1
Grant, Ralph a souldler in ye fort shott 1
Harmense, Frans kild 1
Hessellng, Robt shott 1
Jansse, Barent Killd & Burnd his sonne kild 2
Janz, Antje doughter of Jan Spoor kild & burnt 1
Marcellis, Gerritt and his Wife & childe kiled 3
Pleterse, Wm kild 1
Potman, Joh: kild his wife kild & her scalp taken off 2
Schaets, Reynier and his sonne kild 2
Skermerhoorn, Johannes ye sonne of Symon 1
3 negroes of Symon Skernerhoorn 3
Talmidge, Enos Leift of Capt Bull kild & burnt 1
Tassemaker, Dome Petrus ye Minister kild & burnt In
his house 1
Teunise, Sweer shott & burnt his wife kild & burmt 2
4 negroes of ye said Sweer Teunise ye same death 4
Van Eps, Jan and his sonne & 2 of his chilkren kild 4
a negro of dito Van Eps 1
Viele, Mary wife of Dowe Aukes & her 2 children killd 3
and his negro Woman Francyn 1
Vroman, Engel the wife of Adam Vroman shot & burnt her
child the brains dashed out against ye wall 2
Vrooman, Hind Meese & Bartholomeus kild & burnt 2
2 negroes of Hind Meese ye same death 2
Wemp, Myndert killd 1
a french girl Prisoner among ye Mohogs kild 1
a Maquase Indian kild 1
In all 60
--------------------------------------------------------------------------------
LYST OF YE PERSONS WHICH YE FRENCH AND THERE INDIANS HAVE TAKEN PRISONERS ATT SKINNECHTADY AND CARIED TO CANIDA YE 9TH DAY OF FEBRUARY 1689/90

Baptist, Jan sonne of Jan Van Epps 1
Bouts, Stephen adopted sonne of Geertje Bouts 1
Burt, David belonging to Capt Bull's Compe 1
Gerritse, Stephen ye sonne of Gysbert Gerritse 1
Groot, Abraham, Claes, Dyrck, Phillip & Symon
all 5 sonnes of Symon Groot 5
Harmense, Claes sonne of Franse Harmense 1
Janse, Arnout sonne of Paulyn Janse 1
Marks, Joseph of ye Capt Bull's Compe 1
Purmurent, Lawrence sohne of Claes Lawrence Purmurent 1
Switts, Isaak Connellse & his eldest Sonne 2
Teller, Johannes and his negro 2
Vedder, Albert & Johannes sonnes of harme Vedder 2
Viele, Arnout ye sonne of Arnout Corn Viele ye Interpr 1
Vroman, Barent ye sonne of Adam Vroman & ye neger 2
Webb, John a souldier Belonging to Capt Bull 1
Wemp, John sonne of Myndt Wemp & 2 negroes 3
a negro of Barent Janse 1
In all 27
--------------------------------
From: http://homepages.rootsweb.com/~truax/assoc/descend/dutr0003.htm#id311

Cornelius lost his father, Cornelius Volkertszen when he was only six years of age. His father's place was quickly taken (1650), according to the custom of the times, by Jan Peek. Under the care of a very capable mother and that active trader, his Step-father, he grew up with an understanding of the Indian -- his ways, his language and his manner of trading -- which fitted him to be an interpreter, as was his brother, Aernout, a friend of the Red man, and also, no doubt, somewhat of a trader in his tavern in Schenectardy. There is record of his acting as interpreter and of his refusing to so ace. There is a record of a gift to him from the Indians, which vouches for their friendly feeling, and doubtless, their sense of obligation, for the Indians never forgot a friend any more than they did an enemy. His license as a tavern keeper in Schenectady was granted him in 1672 as a special favor from the Albany authorities for services rendered to them, so that while he may not have been as brilliant as his brother, Aernout, He was a dignified substantial, and worthy representative of that brave and hardy bank of pioneers who held for many years the outposts of civilization in New York State. It has been reported that a party was being held at his tavern the night of a bloody Indian massacre. He probably survived since his name is on the list of survivors to receive assistance, but he undoubtedly died shortly thereafter, perhaps from his wounds. After 1690 he is no longer mentioned in the records and his tavern was taken over by Douve Aukes who also adopted his son, Cornelis JR. Aukes may have married Suster (CC Viele's Widow) after his death. The name "Suster" was perpetuated in the family for 150 years since each descendant had named a child, Suster. The name is not in any other record of early Dutch Families in New York.