Phillip du Trieux

Born: Jul 1586, Robaix, Nord, France (then Lower Netherlands)

Married 11 Apr 1611 or 1615, Amsterdam, Holland, to Jacqueline Noiret

Died: Aft Jul 1649, New Amsterdam, NY

---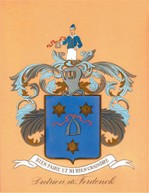 du Trieux Coat of Arms


From: http://www.patpnyc.com/dutrieux.shtml

It is reported that the family came to America in 1624, but that date may not be correct. Philippe was appointed "Court messenger at New Amsterdam" by Gov. Kieft upon the Gov's arrival at Manhattan in 1638. Referred to as Court Messenger Philip de Truy". Philippe seems to have been killed by Indians, probably along with his son. He had sold a house and lot in town - in Manhattan, near today's South St. Seaport - but I haven't found any reference to another house. Certainly his work as court messenger (sheriff) had him travel to all inhabited parts of New Netherland, so he would have known the whole territory of the colony very well.

Official records show the almost constant strife between the settlers and the Indians, without recording all the names of those murdered, although some are identified. This page includes many notes on the times, as well as specific records for Philippe. If you're interested in this page, let me know, and I'll email you when I post updates - because this is a work in progress!

Some historical notes:
In 1643, Indians destroyed all bouweries but 3 on Manhattan and 2 on Staten Island, and killed people and cattle. In 1652, 4 persons on Manhattan were murdered by Indians; in 1653, 3 were murdered on Staten Island. "In 1655, Indians set fire to all the bouweries on the Manhattans around New Amsterdam, and afterwards on Staten Island, and killed all that didn't escape. In less than 3 days, 40+ colonists were killed and about 100 women and children were taken prisoner. Bouweries and some plantations were burnt." There is a "Remonstrance 31 Oct 1655 of the Dir General & Council of New Netherlands to the States General exposing the bad conduct of the barbarous Indians towards the Dutch" which reports many incidents. For a time, individuals were forbidden from wandering outside the settlements; those killed almost being blamed for their own deaths, as the situation was so hostile. So traveling or doing a bit of scouting for promising new land was very risky in these years.

source: Newsletter of descendants' association, article by Ronald S. Taylor.
Philippe de Trieux became engaged to Jacquemyne Noiret on 11 Apr 1615 and they married 10 May 1615. She was from Lisle, according to the marriage register of the Walloon church in Amsterdam. Philippe, age 27, had lived on the "Wale pad" or Walloon Avenue for 3/4 of a year, and was a bachelor. Jacquemyne, born at Ryssel, age 22, had lived on the Wale pad for 12 years. Their son Philippe was baptized 3 Jan 1616 with Arnoult Noiret (her father) and Jaspar du Trieux (of whom there is no other record) present. There is also record of "Jacquemyne, widow of Philippe du Trieux" transferring in 1601 from the Walloon Church of Norwich to that of Leyden. Daughter Marye was baptized in Amsterdam 5 Apr 1617. The family was received into the Leyden church in Oct 1617, then went back to Amsterdam in Dec 1617. The 2nd son named Philippe was baptized in Amsterdam 10 Feb 1619; daughter Madeleine was baptized in Amsterdam 9 Feb 1620.

Philippe became engaged to Susanna on 17 Jul 1621 and they married in Amsterdam 30 Aug 1621. Philippe's 5th child, Gerome, was baptized 20 Oct 1623 at the Walloon Church of Amsterdam. The family left for New Netherlands by ship on 30 Mar 1624 and arrived May or June 1624.

source: "The Monmouth County Branch of the Truax/Truex Family"
"He was a dresser of plush or mock velvet, and a Walloon ... From the records of the Walloon church at Leyden, Holland, we find that on 15 Aug 1617, Philippe and Jaquemyne became members. This church had been established by ... French speaking Protestants who in the 16th century were driven by religious persecution from their homes...." quoting the Archives of Amsterdam: "On 17 Jul 1621 appeared before the Commissaries of matters concerning marriages, Philippe Dutrieux of Roby aged 34 and living in the Runtstreat, worsted dyer, widower of Jacquemyne Noiret, to Susanna du Chesne, of Sedan aged 20 years, orphan, assisted by Jean Pinson her cousin, ..." It looks like the 2nd wife was a cousin of the first.

"Philippe and Susanne received a certificate of transfer - "an attestation" - from the church at Leyden "as pour Westinde" on 9 Mar 1624 and came to America aboard the "New Netherland" in its voyage from Amsterdam to New Amsterdam arriving in May or June of that year. He was among that company of Walloons who came in that year under the leadership of Jesse de Foreest, and have the honor of being the first citizens of what is now New York. There are no records of Philippe for the next 13 - 14 years, although his children were born during that period, and he most certainly was one of the first to build upon the Bever Graft, or the modern Beaver Street.

"In 1638 was appointed Court Messenger, or Marshall, by Gov. Kieft, and on 22 May 1640 received a patent for the land adjoining Sec. Van Tien Hoven's farm in Smith's Valley, Manhattan Island, on which it appears he resided. On a map of New Amsterdam as it was abt 1644 ... will be seen a large tract of land on the east of the island marked "land of Philip de Truye." This was situated in what was then known as "Smit's Vly" and in 1914 was partly occupied by the Fulton Market. Philippe was one of the few early settlers whose land can be readily located, and although he did not take out a patent for it until 1640 he doubtless had owned it long before.

"Philippe died between 23 Jul 1649 when Cornelius Segersen of Renselaerswyck granted power of attorney to `Philip de Truy', and 8 Sep 1653 when the following appears in the Records of New Amsterdam (vol 1 p114): `Carel Van Brugge, pltf. vs Isaac d'Foreest, deft. Pltf. as venduemaster of the personal estate of Pieter Cornelisen, mill-wright, demands payment of fl. 59.8 for goods purchased at public vendue. Deft. acknowledges having purchased the goods, but says, in the name of Philip d'Truy's widow, that her son Philip (who was also murdered) had earned fl. 100 monthly wages of Pieter C., dec'd, which are still due him. Deft. is ordered to prove at the next Court day his demand against the estate of the abv-ment'd P.C. dec'd.'

"From the above we learn that Philippe du Trieux was dead, and that his son Philippe had been murdered (probably by Indians), and it is possible that the father, Philippe, may have also been murdered. On 23 Oct 1654 `Susanne de Scheeve, widow of Philippe De Truwe, late Court messenger at New Amsterdam, confers power of attorney upon her son-in-law Isaack de ---, burgher and free trader at New Amsterdam.'"

source: "New York Historical Manuscripts: Dutch" translated and annotated by Arnold J.F. van Laer, edited with added indexes by Kenneth Scott and Kenn Stryker-Rodda, published under the direction of The Holland Society of New York. Genealogical Publishing, Baltimore. Vol IV, Council Minutes, 1638-1649 has a number of items that give a few glimpses into Philippe's life. Spelling inconsistencies are as in the records.

Council Minutes
26 Aug 1638. "Symen Dirckson Pos, plaintiff, vs. Philip de Truy, defendant, demanding payment of fl.4:10. Case put over to the next court day as the defendant denies the claim."
2 Sep 1638. "Symen Dircksen Pos, plaintiff, vs. Philip de Truy, defendant, for payment of fl. 4:10. The defendant answers that he does not owe so much. Parties agree together, one releasing the other, provided that Philip de Truy deliver to the plaintiff as much fish as he has in his house."
7 October 1638. Everardus Bogardus, minister, plaintiff, vs. Anthony Jansen from Salee, defendant, for slander.

"Declaration of Philip de Truy, made in court at the request of Bogarde, that on the departure of the ship Soutberch, anno 1633, the said Truy, going to the strand to draw water, heard and saw the following: Grietjen Reyniers, wife of Anthony Jansen aforenamed, being likewise on the strand, the crew of the Soutbergh aforesaid called to her, `Whore, Whore, two pound butter's whore!' Whereupon Grietjen, paying little attention to this, lifted up her petticoat and [turning to] the crew pointed to her behind."

Council Minutes, Thursday, 28 Oct 1638
"Ulrich Lupoldt, fiscal, plaintiff, vs. Anthony Jan(sen) from Salee, defendant. He charges the defendant with having stolen the wood which Phi(lip) de Truy had cut in the woods. The defendant says he is not guilty of the charge. Case put over until the next court day, the parties meanwhile to bring proper proof of everything."

Council Minutes, 24 March 1639
Philip de Truy, plaintiff, vs. Anthony Jansen from Salee, defendant, for slander. Default. [Anthony Jansen was frequently involved in such cases!] Ditto 31 March 1639 when several others also brought charges of slander against Jansen and had judgments by default.
28 April 1639

Philip de Truy, plaintiff, vs. Anthony Jansen from Salee, defendant. Plaintiff demands that the piece of land given him by the defendant be transferred to him. Plaintiff's request is denied.

source: Calendar of Dutch Historical MSS 1630-1664 by O'Callaghan, p34.
22 May 1640, Book GG, Patent. Philip de Truy, court messenger, land near Smith's valley, Manhattan island.
returning to source: "New York Historical Manuscripts: Dutch"
July 1644
Philip de Truy, plaintiff, vs. Antony Janser of Sale, defendant, for damage by cattle. Plaintiff is ordered to prove that his fence was tight.
2 August 1644
I, Philip de Truy, court messenger of New Netherland, being authorized by the honorable director general and council of New Netherland, do summon you, Nicolaes Coorn, commander of Beeren Island, on behalf of Willem de Key, attorney for Govert Loockmans, to appear here in Fort Amsterdam six weeks from this date ..."
4 August 1644, revised from "Laws and Ordinances of New Netherland" tells us about the situation the settlers found themselves in.
"Whereas by this war which we have been obliged to wage and still carry on against the Indians we find ourselves wholly without goods and effects and do not know wherewith to feed or to maintain the soldiers, and whereas a goodly number of soldiers have been sent to our assistance from Curacao, we should indeed have excused ourselves from accepting them, were it not that the necessity of the country demanded their retention and the commonality insisted upon it. Therefore, it is deemed advisable to retain a large number of them here and as it is impossible for the director to provide them with clothing, the store being entirely empty and the winter at hand, and as nothing can be effected with naked men, who on the contrary are a heavy burden on us, no other means are found available than to impose some excise on commodities wherein those deal who only do business here, while others must suffer serious loss.
"Wherefore it is provisionally ordained (until help is obtained from Holland) that each merchantable beaver being here at the fort or brought to it shall pay 15 stivers once for all. And in order to prevent all frauds, all the beavers on which the duty is paid shall be marked with the Company's mark by the officer appointed thereto, and such beavers as three days after the publication hereof shall be found to be unmarked shall be confiscated. On leaving the country, the [merchants] will be given a certificate that the duty has been paid to the Company.
"Furthermore, henceforth there shall be paid on each barrel of beer 3 guilders, payable by the brewer, on condition that he shall be allowed to sell his beer to the tavern keepers at fl.22, and the tavern keepers [shall be allowed to sell the same] again at 9 stivers the half-gallon; and all the brewers shall be bound to notify the receiver how many barrels they have brewed each time, before it is removed from the premises. Thus done by the honorable director, Johannes la Montagne, the honorable fiscal, Captain Willem Cornelisz, Bastiaen Crol and Captain Jan de Fries, and published the day and year above written.
"The director and council have appointed Willem de Key receiver of the duties on beavers and beer and allowed him as compensation therefor 5% [of his receipts] over and above his regular salary, on condition that he render a propert and true account of everything, as he is bound to do according to his oath of fidelity to the Company."

source: "Lease from Philip du Trieux to Pieter Andriessen of a milch cow on shares" gives an idea of the importance and scarcity of milk cows in those years in New Amsterdam.

"Before me, Cornelis van Tienhoven, appointed secretary in New Netherland for the General Chartered West India Company, appeared in the presence of the undersigned witnesses Pieter Andriessen, who acknowledged that on the 2d of August last he received from Philip de Truy one cow on the conditions and terms hereinafter written.

First, the risk of death shall be shared jointly by Philip de Truy and him, Pieter Andriessen aforesaid, for the term of four consecutive years, beginning on the 2d of August 1641 and ending the 2d of August 1645, on condition that at the expiration of the aforesaid four years the increase shall be shared and divided half and half. Furthermore, Pieter shall annually pay to Philip or his assigns 25 pounds of butter as rent of said cow, and if it happen that no more than one calf, whether bull calf or heifer calf, be produced from the aforesaid cow during the said years, it shall be appraised by arbitrators and lots shall be drawn to determine who shall keep it and whoever retains it shall pay one-half the valuation to him who loses his half (interest in the calf); all without fraud. Done this 15th of October 1641, in Fort Amsterdam in New Netherland. Phylippe du Tryecx [in O'Callaghan's translation; in other places the signature reads "Phylippe du Tryeux"] [mark of Pieter Andriessen] John Stanley, Cornelius van der Hoykens, fiscal, witnesses. Acknowledged before me, Cornelis van Tienhoven, Secretary."

Entry 26 Nov 1643 refers to "Philip du Truy, court messenger" and is signed "Philippe du Tryeux, messenger."

"Declaration of Ponkes, an Indian of Marechkawick, regarding the burning of Jochem Pietersen Kuyter's house" shows the tense situation between settlers and Indians.

"Before me, Cornelis van Tienhoven, secretary of New Netherland, appeared Ponkes, an Indian of Maechkawieck, who has been among the Indians, our enemies during the war, and who on the 7th of March last, in the presence of Jan Eversen Bout, Frederic Lubbersz and Cors Pitersen, inhabitants here, and before the honorable fiscal, voluntarily made a statement in his own tongue, which tongue and statement of the Indian above mentioned the aforesaid persons declare fully to understand. Wherefore they, the deponents, declare that on the 7th of March last they heard the statement made by the Indian, who said that the Indians, our enemies, did not set Jochim [Pie]tersz' house on fire, the more so as they inquired among themselves who might have done it and were not able to learn that those who burned the house were Indians, notwithstanding the fact that the Indians when they commit anyoutrage boast of it and think that they have done a good and great thing. [footnote: Here follows: "but as far as the Indians know at present the owner himself set fire to the house and fled for fear of being killed," which words are canceled in the original.] All of which the deponents declare to have heard from the Indian in the Indian language, offering to confirm the same. Done in Fort Amsterdam in New Netherland, the 9th of March 1645."

"The deponents refused to sign in the presence of the council and the undersigned witnesses, in whose presence they acknowledged that they had heard the foregoing from the Indian. Done as above, Philippe du Tryeux, Willem Breidenbent, under-sheriff, Daniel Kaggen. Before me, who also understand the Indian language and likewise heard the same from the Indian, Cornelis van Tienhoven, Secretary."

"Contract of sale of a parcel of land on the East River on Manhattan island from Govert Loockermans and associates to William Coulder" refers to Philippe's land:

"On the 15th of September in the year ... 1646, before me, Cornelis van Tienhoven, secretary of New Netherland, appeared Mr. Govert Loockmans and Dirck Cornelissen, of Wensveen, having power of attorney from their co-partners residing in Holland, who declared in the presence of the undersigned witnesses that they had sold to Willem Goulder a parcel of land situated on the island of Manhatans, on the East river, bounded to the westward by Mr. Allerton and Philip de Truy; extending from the height next to the strand along said Allerton's and de Truy's land in length 28 rods to the cripplebush; in breadth along the cripplebush 18 rods 1 foot; thence toward the height by the strand in length 30 rods along the land of Loockmans and associates; and in breadth along the strand on the height 18 rods 1 foot; which parcel of land contains in all 524 rods 5 feet; for which Willem Goulder shall pay to the vendors the sum of 200 guilders in three installments, to wit: 1/3 part 15 Sep 1647, 1/3 part 15 Sep 1648, and [the last third part] the 15 Sep 1649, each time in such money as is current here. ...."

"Agreement of Henry Breser to take over Philip de Truy's house and land on the conditions agreed to by Nicolaes Stillwell" shows that Philip had left his house in the 1640's but was still alive Feb 1649 [1650 modern style? or was that adjustment already made by the Dutch?]

"Before me, Cornelis van Tienhoven, secretary of New Netherland, appeared Henry Breser, who acknowledged that he had taken over from Nicolaes Stillewel the land and dwelling house of Philip de Truy on the same conditions as Stillwell agreed to with said Philip, promising to fulfil the said conditions made by Stillewel with Philip de Truy in all respects, so that Philip may hold him, Henry Breser, responsible as principal in regard to said contract provided that Stillewel shall deliver in March to Henry Breser as many palisades as are required in front along the road and from the land to William Goulder, and by the middle of March 1651 provide the three other sides with new palisades, which Stillewel must deliver at his expense on the strand near Mr. Allerton's. Done the 8 of February 1649." marks of Breser and Stillewel, acknowledged before CvT. [In the margin is written: "not paid."]

"Power of attorney from Cornelis Segersen to Philip de Truy to demand ten beavers from Jacobus van Curler"
Cornelis Segersz [Cornelis Segersen van Voorhout], residing in Renselarswyck, appoints and empowers Philip de Truy to demand and receive from Jacobus van Curler ten beaver skins, which the principal loaned to Jacob van Corler not long since on the island of Manhatans. On receipt of the said beavers by Philip de Truy, he is authorized to execute a discharge in full therefor, which shall be valid, and if necessity demands it the attorney may sue for them and further act as circumstances may require. This day, the 23d of July 1649, in New Amsterdam. Cornelys Zegers. Acknowledged before me, Cor. van Tienhoven, Secretary."

----------------------------------------------------
From: http://bobmurg.home.att.net/marie_du_trieux.htm
THE MURGITTROYD FAMILY ASSOCIATION
The Story of an American Family

The Wallons were French speaking inhabitants of the Low Countries who in the later part of the sixteenth century fled from their homes on account of religious persecutions. Under the leadership of Jesse de Forest some of the Walloons who had gone to Leyden sought to emigrate from there to Virginia, but finally came over to Manhattan in 1623 with Capt. Cornelis Mey. These were the first settlers of New Netherland. Philip du Trieux seems to have been one of these earliest settlers, for he was here in Minuit's administration (1624-28) and was in 1638 Court Messenger for the West India Co in New Amsterdam. Philip appears to have been murdered by the Indians, together with his son Philip, before 1653. Philip's daughter was Marie Du Trieux.