Wladislaus II "the Exile" High Duke of Poland

Born: Abt 1105, Kraków, Poland

Married to Agnes of Babenberg

Died: 30 May 1159, Altenburg, Germany

---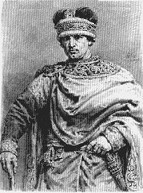 Wladislaus II "the Exile", High Duke of Poland


Wladislaus II the Exile of Poland
From Wikipedia, the free encyclopedia.


Wladislaus II the Exile (Polish: Wladyslaw II Wygnaniec, also seen Wladislaus, Ladislaus, Ladislas or Vladislav) was the High-Duke of Poland (1138-1146)

Born: 1105, Kraków, Poland
Died: 30 May 1159, in Altenburg, Germany
Parents: Boleslaus III the Wrymouth, Duke of Poland, and Zbyslava of Kiev, daughter of Sviatopolk II of Kiev.
Married to: Agnes of Babenberg of Austria, 1125
Children: Boleslaus the Long, Duke of Silesia and Richeza of Poland who married Alfonso VII, King of Castile and Leon.

Biography
After his father's death, Wladislaus, as his oldest son, became the High-Duke of Poland. He controlled the high-duke provinces of Kraków and Gniezno and also his hereditary province of Silesia.

In 1146 he was driven into exile by his younger brothers and died in Germany. In 1163 the province of Silesia was granted to his sons by the Polish duke Boleslaus Kedzierzawy. Subsequently Silesia was divided among his descendants and successors (going up to 17 duchies), until they died out in 1675.