Laura Lane Welch

Born: 4 Nov 1946, Midland, TX

Married 5 Nov 1977, Glass Chapel, First United Methodist Church, Midland, Texas. , to George Walker Bush

Died: Living

Occupation: First Lady

---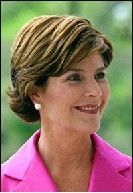 Laura Lane [Welch] Bush


Laura Lane Welch was born in Midland, Texas, the only child of Harold and Jenna Welch. She was a very popular student at school and attended the same high school as Tommy Franks.

At the age of seventeen, on November 6, 1963, while driving a Chevrolet sedan, Welch ignored or overlooked a stop sign and struck and killed Michael Douglas, aged seventeen, in a Corvair sedan. Douglas had been an acquaintance of Welch. She and her passenger, Judy Dykes (also aged seventeen) were treated for minor injuries at a local hospital. Welch was not charged.

In recent press interviews she has said that: "All I can say about that (is) it was a very, very, tragic accident I was involved in when I was 17 years old, almost 40-something years ago. It was a terrible accident. It was terrible for everyone involved,".."I know this as an adult, and even more as a parent, it was crushing... for the family involved and for me as well," she said. [1] (http://www.bartcop.com/pickles.htm) Following her husband's election as president in 2000, innuendo swirled around this incident and her acquaintance with Douglas. However, the authorities did not bring homicide charges. [2] (http://www.snopes.com/politics/bush/laura.asp)

Laura earned a Bachelor of Science degree in education in 1968 from Southern Methodist University in Dallas. After graduating, she became a schoolteacher at Longfellow Elementary School in Dallas Independent School District until 1969. She then taught at John F. Kennedy Elementary School, a Houston Independent School District school in Houston, until 1972.


Jenna and Barbara Bush with their parents George W. Bush and Laura BushBush earned a Master of Science degree in Library Science in 1973 from the University Texas in Austin. She is the second First Lady (after Hillary Clinton) to hold a post graduate degree. After that, she worked at the Kashmere Gardens Branch at the Houston Public Library, until 1974, when she moved back to Austin. She was a librarian at an Austin Independent School District school, Dawson Elementary School, until 1977.

She met George W. Bush in 1977 at the home of mutual friends and married him on November 5 of that year. In 1981, she gave birth to twin daughters, Barbara and Jenna, now graduated from college.
---------------------
Laura Bush is dedicated to advancing education in America and supports the President's work to ensure that no child is left behind in school or in life. She created a national initiative, Ready to Read, Ready to Learn, to inform parents and policy makers about early childhood education and the importance of reading aloud to and with children from their earliest days. She helped to develop a series of magazines called "Healthy Start, Grow Smart," to provide parents with information about their infant's cognitive development and health.

As one of her first priorities, Mrs. Bush convened the White House Summit on Early Childhood Cognitive Development. Prominent scholars and educators shared research on how infants learn and how parents and caregivers can prepare children for lifelong learning. To share this information with a broader audience, Mrs. Bush hosts regional summits across the country.

A vital part of early childhood education is teaching children to read and to love books. Mrs. Bush strongly supports the President's goal to ensure that all children learn to read by the third grade. She joined with the Library of Congress to launch the first National Book Festival in Washington, D.C., in September 2001. The 2003 National Book Festival drew 60,000 book-lovers from across the nation. Mrs. Bush also hosts the series "White House Salute to America's Authors," to celebrate our country's great literary works. Featured authors have included Mark Twain, Women Writers of the West, authors of the Harlem Renaissance, and three classic American storytellers: Truman Capote, Flannery O'Connor and Eudora Welty.

To succeed in school, children also need excellent teachers. Mrs. Bush works with teacher recruitment programs like Teach For America, The New Teacher Project, and Troops to Teachers to encourage students, professionals, and retired members of the military to become teachers. Mrs. Bush also hosted a White House Conference on Preparing Tomorrow's Teachers.

As Honorary Ambassador for the Decade of Literacy of the United Nations Educational, Scientific and Cultural Organization (UNESCO), Laura Bush leads America's efforts to bring education to people worldwide, especially to women and girls. She is a strong advocate for equal rights for all women. Mrs. Bush is the only first lady in history to record a full presidential radio address, speaking out on the plight of women and children living under the Taliban. She is leading an effort to build a teacher-training institute for women in Afghanistan.

In honor of her mother, a breast cancer survivor, Mrs. Bush supports education campaigns for breast cancer and heart disease. She partners with the National Heart Lung and Blood Institute to share The Heart Truth, which is that heart disease is the leading cause of death among women in America. Mrs. Bush educates women about their risks and stresses the importance of healthy eating, exercise and preventive screenings.

A hiking and camping enthusiast, Laura Bush enjoys the great outdoors. She helped to start Preserve America, a national preservation initiative to protect our cultural and natural heritage. She highlights preservation efforts across the country and encourages Americans to get involved in preserving main streets, parks, and community treasures. Mrs. Bush also replanted native grasses at the family's ranch in Crawford to preserve the beautiful Texas landscape.

Laura Bush was born on November 4, 1946, in Midland, Texas, to Harold and Jenna Welch. Inspired by her second grade teacher, she earned a bachelor of science degree in education from Southern Methodist University in 1968. She then taught in public schools in Dallas and Houston. In 1973 she earned a master of library science degree from the University of Texas at Austin and worked as a public school librarian in Austin. In 1977 she met and married George Walker Bush. They are the parents of twin daughters, Barbara and Jenna, who are named for their grandmothers.

Family
Married to President George W. Bush

Daughters
Twin daughters, Jenna and Barbara

College
Southern Methodist University, bachelor's degree in education

Graduate School
University of Texas at Austin, master's degree in library science

Career and Public Service
Public school teacher and librarian in the Houston, Dallas and Austin school systems; First Lady of Texas; First Lady of the United States

How They Met: They met at a back yard barbeque at the home of mutual friends and were married three months later.

Wedding Date: November 5, 1977, at 11 A.M. in a small wedding in the Glass Chapel of the First United Methodist Church in Midland, Texas. It was the same church where Laura had been baptized. The officiant was Reverend Jerry Wyatt.
They had 75 guests. They didn't have any bridesmaids, or groomsmen, or flower girls, or ringerbearers. Their wedding invitations were printed by hand.

They didn't have a honeymoon.