Abigail Smith

Born: 11 Nov 1744, Weymouth, Norfolk, MA

Married 24 Feb 1764, Weymouth, Norfolk, MA, to John Adams

Died: 28 Oct 1818, Quincy, Norfolk, MA

---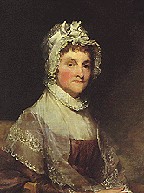 Abigail [Smith] Adams


Abigail Adams is a famous woman in history. She was born on November 11, 1744. Her parents were William and Elizabeth Quincy Smith. They had a lot of money. She was born Abigail Smith Adams. She had two sisters and one brother. Their names were Betsy, Mary, and Billy. Her father was a clergyman.

Abigail was often sick when she was young. When she grew up, Abigail was tall and slender. She had many sharp and striking features. She was shy, quiet, determined, and even stubborn. Abigail received little formal education. The school Abigail went to was called Dame school because only girls went there. She learned a lot from her grandmother because her grandmother taught her. She later educated herself in science.

John was 27 when he met Abigail. He was a lawyer. They got married in 1764; she was 20 years old. Her father married them. They had 5 children. Their names were Nabby, John Quincy, Susanna, Charles, and Thomas. Abigail Adams was married to John Adams for fifty-four years.

Abigail was an important person in the 17and 1800ís. This is because she helped womenís rights grow more. She did this because women were not treated as well as men were treated.

She had a notable influence on her husband career. She went with him on his journeys in Europe. She even gave him advice. She even gave him advice by writing to him when she was not with him. She took care of her family and wrote many letters. Many of her letters have been published. Her grandson, Charles Francis Adams, published most of her letters she wrote from 1841 to 1876.

Abigail died on October 28, 1818. She is buried next to her husband in the United First Parish Church. Abigail is remembered for many reasons. She married the second president of the United States and was the mother of the sixth president of the United States. Abigail helped people "thinking about women rights and roles". At first, John did not take what Abigail believed in very seriously. She was committed to help women get educated. She was also against slavery. Abigail worked hard for womenís rights and did a lot for them.