Louis VII Capet "le Jeune" King of France

Born: 1119 or 1120, Reims, Champagne, France

Married 13 Nov 1160 to Adaele (Alix) Countess of Champagne

Died: 18 Sep 1180, Paris, Isle de France, France

---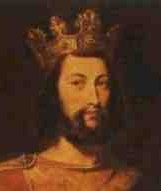 Louis VII, "The Young", King of France


buried 19 September 1180 Barbeau, Isle de France, France
------------------------------------------------------------------
From: www.infoplease.com

Louis VII (Louis the Young), c. 1120–1180, king of France (1137–80), son and successor of King Louis VI. Before his accession he married Eleanor of Aquitaine. A controversy with Pope Innocent II over Louis's refusal to accept the papal appointee to the archbishopric of Bourges led to a papal interdict on Louis and to warfare between the king and the count of Champagne, who supported the papal candidate. It was settled, after the intervention of St. Bernard of Clairvaux, by Louis's capitulation (1144) to Pope Celestine II, Innocent's successor. In the course of that war Geoffrey IV (Geoffrey Plantagenet), count of Anjou, completed his conquest of Normandy; Louis, in return for a small concession, acquiesced in the conquest. In 1147, Louis left on the Second Crusade (see Crusades), after appointing Abbé Suger as regent. The crusade failed, and he returned in 1149. In 1152 Louis, suspecting Eleanor of being unfaithful, had his marriage with her annulled. Her subsequent marriage with Henry Plantagenet (later King Henry II of England), Geoffrey's son, resulted in Henry's claims to Aquitaine and precipitated recurrent warfare between Louis and Henry. Louis supported Thomas à Becket during his exile from England and joined in the revolt of Henry's sons (1173–74), but won no territory. He completed his father's work of subduing the barons on the royal domain and continued to increase his influence over more distant vassals. His son Philip II succeeded him.