Bernard of Neufmarche Lord of Brecon and Brecknock

Born: Abt 1050, Neufmarche, France

Married to Nest fil Trahern

Died: Abt 1093

---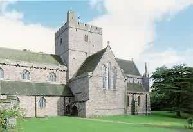 Brecon Cathedral (see remarks)


Brecon Cathedral History

Following the Norman conquest of Britain in 1066, an uneasy pact was maintained between the Welsh chieftains and the Norman invaders. This began to break down as Norman lords broke free of royal control and started to occupy territory on the Welsh border. One of these lords was Bernard of Neufmarche, whose activities in this area culminated in a battle near Brecon in 1093 in which the local Welsh chieftain was killed. Bernard built a castle at Brecon to control the area and gave an existing church near the castle described as 'the church of St John the Evangelist without the walls' to a monk of Battle abbey in Sussex called Roger. He and other monks of the Benedictine Order established a Priory on this site.

Brecon Priory became a daughter house of Battle Abbey and, with the support of that house and the patronage of successive Lords of Brecon, grew and flourished for over 400 years from about 1100 to the dissolution of the monasteries in 1537. Virtually the whole of Brecon Cathedral today and the buildings around it date from this period. Some parts of the Cathedral survive from the beginning of the Norman period but the building was greatly expanded in the thirteenth century in the Early English style and altered and added to in the fourteenth century in the Decorated style. In the late Middle Ages it became an important place of pilgrimage following the construction of a Golden Rood on the screen at the east end of the Nave. The number of monks was never large but the work of worship and teaching was maintained throughout its history. A number of books written at Brecon have survived and facsimile copies are on display.
------------------------------------------------------------
The Tale of Bernard of Neufmarche
The family of Bernard of Neufmarche had served the Duke of Normandy for years with distinction, but his father was disgraced and dispossessed and Bernard had to make good his loss by service with William Rufus, son and successor to William the Conqueror as King of England.
In late 1087, Bernard acquired lands in Herefordshire through marriage to the heiress of Osbern FitzRichard, who had himself married a Welsh princess. Osbern was the son of Richard le Scrob, a Norman knight who, in the time of Edward the Confessor, built Richard's Castle on the Welsh border.

By late 1088, Bernard had taken his followers past the defenses of Clifford Castle, held by the Tosny family, and invaded Welsh territory. He lost no time in establishing a motte at Gasbury, from which he refused to be moved.

Over the next five years, Bernard and his men were probing the defences of Brycheiniog. The Welsh prince Rhys ap Tewdwr of Deheubarth was called in to defend the lands against their attacks and in 1093 he and "the Normans who were living in Brycheiniog" met near the point where the River Honddu falls into the Usk. There in a great battle Rhys ap Tewdwr was killed, and with his death the way was cleared for conquest and settlement by the Normans, for no other Welsh leader of name would emerge for a generation.

In battle Bernard was a marvel, with a visage so fearsome that it is said that his enemies would turn and run at the mere sight of him, and that indeed, some dropped dead from terror. His authority was so great that he could command the faeries and giants to build his castles. That he did not conquer the whole of Wales is but a testimony to his modesty. Thus it is said.

Bernard established his principle castle at Aberhonddu which the Normans named Brecon: there he founded a priory church and a small borough. The invaders gave it protection by building a series of mottes as an outer line of defence, and Bernard's knights, endowed with lands in the river valleys, established their own castles. Bronllys and Hay guarded the approach from Herefordshire; Tretower and Crickhowell controlled the route which would lead to Abergavenny and the lands of Gwent; Aberyscir and Trecastell were the defences on the western side of Brecon towards Cantref Bychan. The mountainous country which formed the Great Forest of Brecknock was slowly provided with a series of small castles and hunting lodges. North of Brecon, towards the inhospitable uplands of the Epynt, the displaced Welsh dynasty established a base from which they would harry the Normans to this day.

In religious matters, Bernard's patronage was attracted to Battle Abbey in Sussex. There, William the Conqueror wanted to establish a monastery which should be a memorial to his great victory of 1066. His son William Rufus, with an unexpected display of filial devotion, made sure that Battle was brought to completion and dedicated. As Bernard was one of Rufus' new men, he might have been expected to support his lord. The parallel of the Conqueror's success at Hastings and Bernard's success in his Welsh territory must not be ignored. It was said that Bernard had in his entourage monks of Battle Abbey. Whether by design or by the accident of their influence, the church of his new lordship was deliberately associated with Battle Abbey, and the priory of Brecon has always been directly subject to the abbot of Battle. Priors of Brecon were appointed and removed at his will, and the fortunes of the priory were closely linked with those of the parent house.


The Tale of Mahel the Dispossessed
Bernard de Neufmarche was the first Norman to seize possession of this county of Brecknock from the suzerainty of the Welsh. He married Nest, the daughter of Nest, herself daughter of Gruffydd ap Llywelyn, who for so long had oppressed all Wales by his tyranny. She took her name Nest from her mother, but the English changed it and called her Agnes.
Bernard had children by her, among them a distinguished knight called Mahel, who lost his paternal inheritance by an injustice as I shall tell you. His mother broke her marriage vow and fell in love with a certain knight, with whom she committed adultery. This became known, and her son Mahel assaulted her lover one night when he was returning from his mother. He gave him a severe beating, mutilated him, and packed him off in great disgrace.

The mother, disturbed by the remarkable uproar which ensued, and greatly grieved in her woman's heart, was filled with a burning desire for revenge. She fled to Henry, King of the English, and told him that her son Mahel was not Bernard's child, but the offspring of another man with whom she had been in love and with whom she had had secret and illicit intercourse. This she maintained rather from malice than because it was true, confirming it by an oath which she swore in person before the whole court. As a result of this oath, which was really perjury, King Henry, who was swayed more by prejudice than by reason, in 1121 gave Nest's elder daughter Sybil, whom she accepted as Bernard's child, in marriage to a distinguished young knight of his own family, Miles FitzWalter, constable of Gloucester, adding the lands of Brecknock as a marriage portion.

So this woman, at great loss to her personal modesty, and with the sacrifice of all decorum and self-respect, by this one shameful act deprived both her son of his inheritance and herself of her honour. She did this to reap revenge and to satisfy her anger.

In 1125 Bernard passed to his eternal reward, and Miles became Lord of Brecknock in his wife's name.