Sir Henry Wyatt

Born: Abt 1460, Southage, England

Married to Anne Skinner

Died: 11 Oct 1537, Allington Castle, Kent, England

---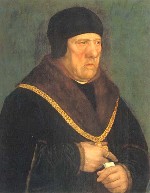 Sir Henry Wyatt [Hans Holbein (1497/8 - 1543), Louvre - Acquired in 1671]


SIR HENRY WIATT (1460-1537) father of Thomas Wiatt who married Elizabeth Brooke is said by historians to have been the most beloved man in England. He was very close to Henry Tudor later Henry VII with whom he attended Eton, a matter whiich greatly disturbed Richard III who feared Tudor connection with the wealthy, much loved Wiatt. For this reason Richard III had Wyatt imprisoned in a tower in Scotland, where he was required to wear instruments of torture during the imprisonment. Denied of clothing, enough to keep warm, and food enough to survive, a cat named Acatar
brought him a pigeon daily which kept him alive.
After the Battle of Bosworthfield and the death of Richard III. Henry Wiatt was freed by his friend Henry Tudor and knighted. Lands and great wealth were his and he became the guardian of Tudor's son the future Henry VIII. He became Master of the King's Jewels and Treasurer of the King's Chamber. Allington Castle is the ancestral home of the Wyatt family and cats are welcome.
II
SIR HENRY WYATT, the father of the poet, resisted the pretensions of Richard III to the throne, and was in consequence arrested and imprisoned in the Tower for two years. According to his son's statement he was racked in Richard's presence and vinegar and mustard were forced down his throat. There is an old tradition in the family that while in the Tower a cat brought him a pigeon every day from a neighbouring dovecot and thus saved him from starvation. There is no contemporary confirmation of the legend. The Earl of Romney, who is directly descended in the female line from the Wyatts, possesses a curious half-length portrait of Sir Henry seated in a prison cell with a cat drawing towards him a pigeon through the grating of a window. Lord Romney also possesses a second picture of 'The cat that fed Sir Henry Wyatt,' besides a small bust portrait of Sir Henry. The pictures, illustrating the tradition of the cat (now at Lord Romney's house, 4 upper Belgrave Street;, London), represent Sir Henry Wyatt in advanced years, and were obviously painted on hearsay evidence very long after the date of the alleged events they claim to depict. The Wyatt papers, drawn up in 1727 relate that Sir Henry on his release from the Tower 'would ever make much of cats, as other men will of their spaniels or hounds.' On the accession of Henry VII Wyatt was not merely liberated but was admitted to the privy council, and remained high in the royal favour. He was one of Henry VII's executors, and one of Henry VIII's guardians. Henry VIII treated him with no less consideration than his father had shown him. He was admitted to the privy council of the new king in April 1509, and became a knight of the Bath on 23 July following. In 1511 he was made jointly with Sir Thomas Boleyn [q.v.] constable of Norwich castle (Letters and Papers of Henry VIII, i, No. 3008), and on 29 July of the same year was granted an estate called Maidencote, at Estgarstone in Berkshire. At the battle of the Spurs he served in the vanguard (16 Aug. 1513). He became treasurer to the king's chamber in 1524, but resigned that office to Sir Brian Tuke on 23 April 1528. He had purchased in 1492 the castle and estate of Allington near Maidstone in Kent, and made the place his principal residence. Henry VIII visited him there in 1527 to meet Wolsey on his return from the continent. Wyatt remained friendly with Sir Thomas Boleyn (the father of Queen Anne Boleyn), who had been his colleague at Norwich, and resided at Hever Castle in Kent. Sir Henry died on 10 Nov. 1537 (Inq. post mort. 28 Hen VIII, m. 5), and, in accordance with his will, which was proved on 21 Feb 1537-8 (Cromwell, f.7), was buried at Milton, near Gravesend.