Daniel Francois Perron dit Suire

Born: 1639, La Rochelle, Aunis, France

Married 26 Feb 1664, Chateau Richer, Montmorency, Quebec , to Louise Gargottine

Died: 7 Jan 1678, L'Ange Gardien, Montmorency, Quebec

---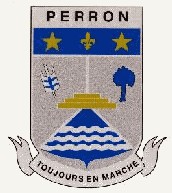 Perron Coat of Arms


In the XVIIth century, the city of La Rochelle, old capital of Aunis and nowadays prefecture of the province of Charente-Maritime, is one of the largest ports of France, and one of the first to benefit from the establishment of a colony in the valley of the St. Lawrence (Canada). Many pioneers of Rochelaise origin traded in significant quantities there between their country of adoption and their birthplace.

Amongst the merchants of La Rochelle who build commercial bonds with New-France, François Peron appears, a re-supplier who, each year, from 1655 to 1663, charters a sailing ship for the delivery of food and goods to Quebec. This middle-class man is of Protestant faith.

In 1638, François Peron has an affair with a young person named Jeanne Suire. Although he admits having enjoyed the carnal company of Jeanne, François refuses to marry her when she becomes pregnant with their baby, Daniel. As an illegitimate child, he is named Daniel Suire.

Daniel Suire was born on 25 November 1638, baptized on December 26, 1638, registered in the Protestant register of Dompierre and Bourneuf, today Dompierre-on-Sea, in La Rochelle, current province of Charente-Maritime.

In 1657, Daniel Suire crosses the Atlantic to New-France for the first time, on board the Traveur. Although his father refused to marry his mother, Francois does not give up on him, for he is their son. In the autumn of 1663 arrives a group "fille de roi", among whom is Louise Gargotin, almost a fellow-countrywoman, because she originates in Jarrie, a borough located 8 km from the center of La Rochelle. Daniel plans to fix himself in the colony and to found a family.

February 23, Daniel and Louise sign their marriage contract and, three days later, one of the first priests of the seminary in Quebec, blesse their union. When François Peron learns that his son Daniel joined the Catholic faith, he disowns him, and this spm, who had always borne the surname of his mother, took that of his father. He was consequently designate Daniel Peron dit Suire and a second letter "R" is added to this patronym, which makes Perron.

The couple lived in l'Angel-Gardien and had six children. The first, Antoine Perron, born in 1664, takes a wife on January 15, 1691 - Jeanne Tremblay, daughter of the prolific ancestor Pierre Tremblay and Ozanne Achon and becomes the father of eight children.