Isabel de Bokland

Born: Abt 1195, Gilliam, Dorset, England

Married to Osbert Giffard

Died: Bef 8 Jul 1242, Brimesfield, Gloucestershire, England

---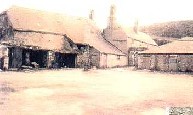 Hooe Farm


West Hooe Manor and Hooe Barton Farm , a short History and Background.
Robin Blythe-Lord. Updated 4th March 2000

Hooe is mentioned in the Domesday Book identifying it as the site of a Saxon Manor held by Alebric before the Norman Conquest and that it had been granted to Iudhael of Totnes who let it to Stephen. There was land sufficient for two ploughs, five acres of pasture and it was worth 20 shillings a year. In addition to this Stephen had land of his own: 'half a virgate and one plough'. A virgate was a quarter of a Hide. A Hide could be anything between 120 and 240 acres, it was not a measured area but a conjectural area used for Domesday tax purposes. The physical size depended upon the nature and quality of the land and related to a 'plough' which was the amount of land one plough drawn by a team of eight oxen could work in one day. So half a virgate is between 15 and 30 acres or 6 to 12 Hectares. This indicates that the Manor of Hooe extended some way into the hills surrounding the lake.

Hooe Manor was inherited by Wido de Bocland and in 1166 he made it over to the Prior of Plympton and received it back as perpetual tenant at a rent of about 3 shillings a year. His successor Alan de Bocland acknowledged the ownership to be that of the Priors and it was granted to him in 1201 on the same terms.

In 1238 Alan's daughter, Isabella, had to complain to the court in Exeter that the new prior, Robert, was not honouring the agreement made between her father and the previous Prior. She won her case and Robert agreed that Isabella and her heirs should hold the manor forever.

Isabella married Osbert Giffard and the tenacy continued in the Giffard family without a break until 1306 when there was a quarrel between two members of the Giffard family, Ralph and Osbert, both of whom claimed Hooe. Following a court case at Westminster Osbert acknowledged Ralph's right to the Manor and Ralph agreed to Osbert's possession until he died, when it would revert to Ralph and not pass to the descendants of Osbert.