Randall Manwaring

Born: Abt 1496, Cheshire, England

Married to Ann Cholmondeley

---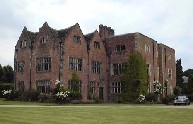 Peover Hall, Ancestral Mainwaring Home


Peover Hall

Peover Hall was open to the public on Monday afternoons from May to September in 2001, except for Bank Holidays. There is a small pamphlet available for visitors to the house and a reprint of an article from The Field magazine of 1985 by Hugh Montgomery-Massingberd.

The Mainwarings held this manor from the time of the Norman Conquest. The current house was built by Sir Randle Mainwaring in 1585 and had a Georgian extension built by Sir Henry Mainwaring, the last male heir. Following the change of ownership to Thomas Wettenhall, who took the name of Mainwaring in 1797, the house continued in that family until 1919.