St Osyth of Mercia

Married to Sigehere King of Essex

Died: Abt 700

---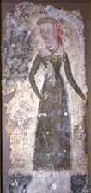 The St. Osyth Green Lady [Castle Museum, circa. 1395]


Osyth was a Saxon princess, married to Sighere, King of Essex. The marriage only lasted until the first evening, when Sighere decided he preferred stag hunting. Taking exception to this, Osyth took herself off to found the priory.

Vikings Inguar and Hubba came up the creek in 653AD and gave her the usual choice of death or dishonour. Obedient to her vows, she opted for the first choice, whereupon they cut off her head. Undeterred, she walked a quarter mile, carrying her head in the traditional manner, until she fell at the church door.

On being made a saint, her shrine became a place of pilgrimage and the priory of Chiche which she founded was named after her.

The priory was re-built in 1118AD, so that nothing of Osyth's original priory can now be seen. However, St.Cedd's chapel at Bradwell, built in about 654 survives as an example of church building at the time of Osyth's martyrdom.
-------------------------------------------------------------
From: Catholic Online

St. Osyth
d. 700 Feastday: October 7

Martyred nun, also called Osith and Sytha. Known mainly through legends, she was supposedly the daughter of a chieftain of the Mercians in England and Wilburga, daughter of the powerful pagan king Penda of Mercia. Raised in a convent, Osyth desired to become a nun but was married against her will to King Sighere of Essex, by whom she had a son. Eventually, she won his permission to enter a convent, and she established a monastery on land at Chich, Essex, donated by Sighere, where she served as an abbess. She was reputedly slain by Danish raiders and is thus depicted in art as carrying her own head. There are historical difficulties associated with her existence, especially as no mention is made of her by Bede in his Ecclesiastical History.