Egbert King of England

Born: Abt 775, Wessex, England

Married to Redburga of Wessex

Died: 19 Nov 839, Wessex, England

---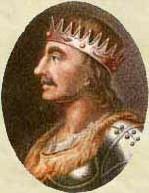 Egbert, King of All England


EGBERT, KING OF WESSEX (r. 802-839)

As King of Wessex, Egbert inherited the mantle of 'bretwalda' - an Anglo-Saxon term meaning a ruler with overall superiority to other rulers - after the decline of Mercian power under Offa. He came to power in 802 and died in 839, but little else is known about his brief reign.

Official Website of the Royal Family - http://www.royal.gov.uk/output/Page16.asp
---------------------------------------------------------------------------------------------

Egbert, is regarded as the first King of England. He reigned from 802 to 829 (839?). He was born about 775 and fled from his cousin Brethrick, taking refuge in the court of *Charlemagne, where he stayed for about twelve years, serving as one of his captains. On the death of Brethrick (who was poisoned by his wife), Egbert returned to England. In 802 at Winchester he was crowned King of the West Saxons. He subdued West Wales, or Cornwall, defeated the King of Mercia at Ellandune, annexed Kent and in 829 he became overlord of all the English kings and gave the name of England to the whole realm. There are still in existence some coins struck by Egbert, though these are now extremely rare. In 835 Egbert defeated a formidable army of Danes at Hingston Down in Cornwall, when they attempted to invade England. He died in 839, and was buried at Westminster. He married *Lady Readberga (Redburga). He was succeeded by his son, *Ethelwulf.
-----------------------------------------------------------
Known as the first King of All England, he was forced into exile at the court of Charlemagne, by the powerful Offa, King of Mercia. Egbert returned to England in 802 and was recognized as king of Wessex. He defeated the rival Mercians at the battle of Ellendun in 825. In 829, the Northumbrians accepted his overlordship and he was proclaimed "Bretwalda" or sole ruler of Britain.