Saint Arnulf, Bishop of Metz de Heristal

Born: Abt Aug 582, Heristal, Austrasia, France

Married to Clothilde "Dode" "Oda" de Meroving

Died: 18 Jul 641, near Remiremont

---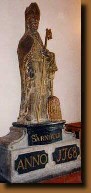 St. Armulf, Bishop of Metz


Bishop of Metz ?-641
Arnulf was a powerful Austrasian noble during the time of Mayor Pepin I, and their two children Ansegisel and Begga were married. According to Frankish myth, Arnulf was the son of Bodigisel, a supposed son of Saint Gendolphus, Bishop of Tongress, and Oda de Savoy. This bishop was an actual historical figure, the son of Arthemia and Munderic of Vitry. According again to the myths, Munderic was the son of Cloderic the Paricide, son of the historic Sigisbert the Lame. This Sigisbert was the son of King Childebert of Cologne, another historical figure that died sometime shortly after 450. He was the suposed son of one Clovis the Riparian who died after 420.
-----------------------------------------------------------------------
Saint Arnulf of Metz

Died 640. Arnulf was a courtier of the Austrasian King Theodebert II, a valiant warrior, and a valued adviser. He married the noble Doda (the marriage of his son Ansegisel to Begga, daughter of Blessed Pepin of Landen, produced the Carolingian line of kings of France).
Arnulf desired to become a monk at Lérins. However, when his wife took the veil and Arnulf was at the point of entering Lérins, he was appointed bishop of Metz about 610. He played a prominent role in affairs of state, was one of those instrumental in making Clotaire of Neustria king of Austrasia, and was chief counselor to Dagobert, son of King Clotaire, when the king appointed him king of Austrasia.

About 626, Arnulf resigned his see and retired to a hermitage near the abbey of Remiremont Delaney, Encyclopedia).

In art, Saint Arnulf is portrayed as a bishop with a coat of mail under his cope. He may also be shown (1) with a fish having a ring in its mouth; (2) blessing a burning castle; or (3) washing the feet of the poor (Roeder). He is venerated at Remiremont. Like Saint Antony, Arnulf is invoked to find lost articles. He is also the patron saint of music, millers, and brewers (Roeder).
--------------------------------------------------
From: Catholic Online

St. Arnulf
d. 640 Feastday: July 18

Bishop and member of the court of the Frankish king Theodebert II of Austrasia, sometimes called Arnuiph or Arnulf of Metz. A noble, Arnulf married Doda, and their son was Ansegisel. Ansegisel married Beggia, the daughter of Pepin of Landen, starting the Carolingian dynasty of France. Doda became a nun, and Arnulf made plans to enter a monastery but was named the bishop of Nletz around 616. He continued his court services, making Clotaire of Neustria the king of Austrasia. He also served as counselor to Dagobert, King Clotaire's son. In 626, Arnulf retired to a hermitage at Remiremont, France.