Samuel Kuhn

Born: Bef 11 Apr 1664, Huttengesass, Hessen-Nassau, Prussia

Married 1 Nov 1688, Hüttengesäss, Hessen-Nassau, Prussia, to Magdalena C Berthen

Married Bef 24 Jun 1711 to Elizabetha Rosenzweigin

Died: Abt 1715, Elizaville, NY

---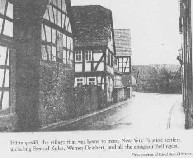 Huettengesaess, the village that was home to many New York Palatine settlers, including Samuel Kuhn, Werner Deichert, and all the emigrant Bellingers.


Samuel KUHN was christened, 11 April 1664, in Langenselbold, Hessen-Nassau, Prussia. He is mentioned in a list dated 30 September 1693 in the Birstein Archives, "Nicklas BELINGER and Samuel KUHN each had 1 horse and 1/2 car at Hüttengesäss". Samuel KUHN married first 1 November 1688, Magdalena daughter of Conrad BERTHEN, in Hüttengesäss, Hessen-Nassau, Prussia, and second Elisabetha ROSENZWEIGIN.

Samuel KUHN made his initial appearance on the Hunter lists 4 August 1710 with 6 persons over 10 years, and 1 person under 10; He was enroled directly next to Niclaus Bellinger, his brother-in-law. He was also registered on the Hunter lists for 25 March 1711, 24 June 1711, 24 December 1711, 25 March 1712 and finallly 24 June 1712. Samuel KHUN and Elisabetha ROSENZWEIGIN were noted on the 24 June 1711 Hunter list which, suggests that he married his second wife prior to this date. Samuel KUHN of Annsberg was a soldier, as a Palatine Volunteer to Canada, in 1711. Samuel with his wife Elisabetha and 5 children were at Wormsdorff circa 1716/1717. He was a Palatine Debtor in 1718, 1721, and 1726.